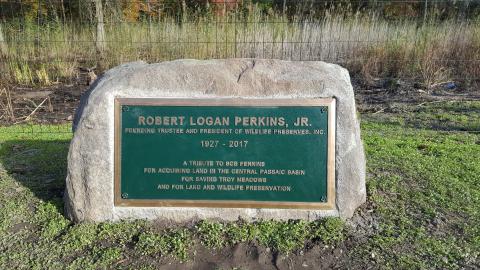 On October 27, 2018, in the midst of heavy rains, wind, and flooding, some thirty "Friends of Troy Meadows" gathered on Troy Meadow Road in Parsippany to pay tribute to the late Robert L. Perkins, Jr., founding Trustee and former President of Wildlife Preserves, Inc. During his lifetime, Mr. Perkins acquired and preserved some 6,000 acres of land in New Jersey. He played a vital role in preserving land and protecting wildlife in the Central Passaic Basin, from the Great Swamp to Great Piece Meadows.
A commemorative plaque mounted on a natural boulder was unveiled during a steady afternoon rain shower, while several people took the opportunity to speak of his life and his accomplishments.
Robert (Bob) Perkins was a humble, private man who never relished in taking credit for all the great things he accomplished. He leaves a legacy of thousands of acres of open space, purchased with private funds, at no cost to taxpayers.
The Robert Perkins Monument is located in Troy Meadows in Parsippany-Troy Hills.
Troy Meadows is a mix of meadows, fields, and forests containing a variety of common and endangered plant and animal communities and many biological features, ponds and vernal breeding pools. It is part of the Atlantic flyway and serves as a staging area for migratory waterfowl. It is an exceptional resource for many species of fauna and flora and contains a dense population of avian and amphibian species, a particular haven for frogs, salamanders, and marsh birds. Troy Meadows is managed as a natural area and wildlife sanctuary and a favorite, famous place for bird watching.
Robert (Bob) Perkins passed away in June of last year, just a few days shy of his ninetieth birthday
Robert's legacy is preserving vast freshwater marshland in the central Passaic River Basin from Great Swamp north to Black Meadows, Troy Meadows, and Great Piece Meadows.

Robert Perkins is the founding father of Wildlife Preserves, Inc., a private, nonprofit land conservation organization dedicated to the preservation of natural areas, open space, wildlife, and wildlife habitats for conservation, education, and research. He was an avid bird watcher and could recognize thousands of birds and hundreds of bird calls.
He was known for walking through swamps with a pair of binoculars and a canoe paddle to blaze his way. During his youth, he attended Putney Boarding School in Putney, Vermont and he graduated Yale University in 1955.
While still in college, he raised funds from, private philanthropists who loved birds; he charmed hundreds of land owners and bought thousands of acres of natural lands under the name of Wildlife Preserves, Inc.
The US Fish and Wildlife Service praised Bob Perkins regarding his accomplishment for consolidating hundreds of individual lots of land into one contiguous parcel at Troy Meadows. A letter written in 1960 by the Fish and Wildlife Service states, "(He) did what no one else was able to do before him." Wildlife Preserves donated and sold property to other preservation groups, and in some cases its lands were taken by eminent domain to create many parks and forests in the Northeast. Parts of the Great Swamp National Wildlife Refuges, the Fire Island National Seashore and three Morris County Parks were saved and once owned and by Wildlife Preserves.
Mr. Perkins acquired marshlands from the Delaware Bay in Delaware and southern New Jersey, north through the Pine Barrens, along the central Passaic Basin to the Appalachian mountains of northern New Jersey, through New York State, and as far north as New Hampshire and Maine.