Troy Meadows is a large, diverse freshwater marsh located in East Hanover, Hanover, and Parsippany-Troy Hills, in Morris County, New Jersey.
Overview
Troy Meadows is a large, diverse freshwater marsh located in East Hanover, Hanover, and Parsippany-Troy Hills, in Morris County, New Jersey. It is located within the Whippany River Watershed in the Passaic River Basin. It is 2,600-acres, located downstream of the Great Swamp National Wildlife Refuge and the Black Meadows, upstream of the Great Piece Meadows Preserve, and about 25 miles west of New York City.
Troy Meadows is designated as a "National Natural Landmark," by the National Park Service, a "New Jersey Natural Area" and also a "Natural Heritage Priority site" by the NJ Department of Environmental Protection (NJ DEP).
The majority of Troy Meadows is privately owned by Wildlife Preserve while the state of New Jersey also owns areas within the meadows. The meadows are managed as a wildlife sanctuary by Wildlife Preserves and a Natural Area for the preservation of natural diversity by the NJ Division of Parks and Forestry.
Troy Meadows is classified as a "Priority Wetland" by the US Environmental Protection Agency and most of the meadows are classified as "Exceptional Resource Value Wetlands" by the NJ DEP.
Open to the Public
Morris County, New Jersey
Hours
Open daily from sunrise to sunset.
Highlights
Hiking, bird-watching, wildlife viewing, views of fresh water wetlands.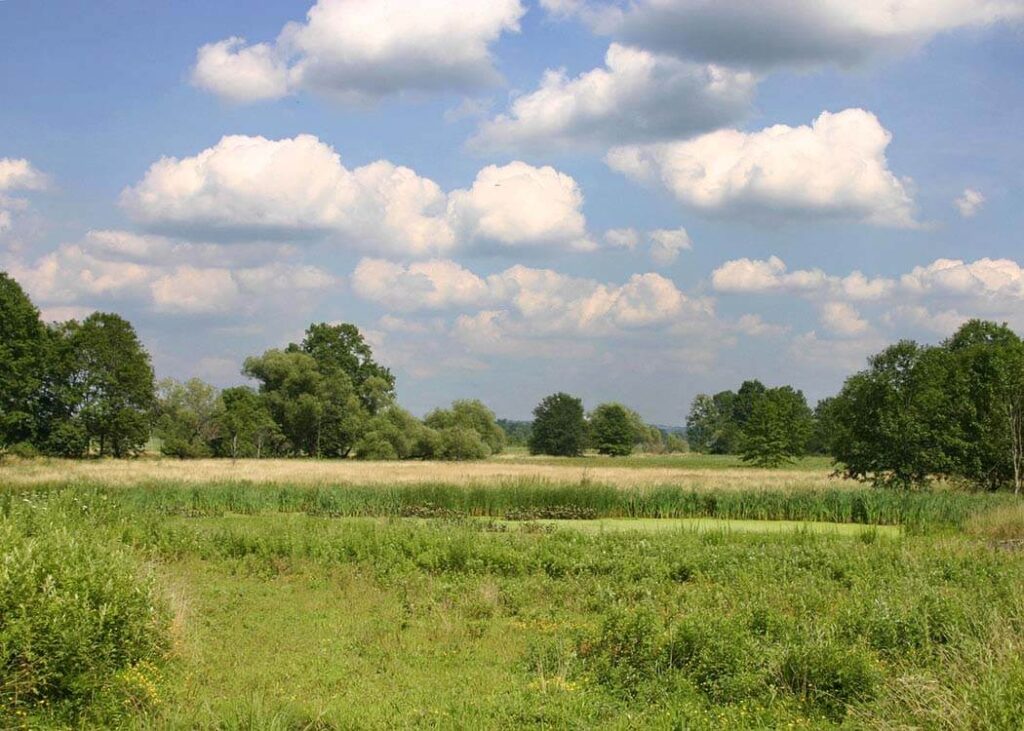 Wildlife Habitat
Troy Meadows has a biological value as wildlife habitat for ordinary, threatened and endangered species of fauna and flora, a recreational value for the people of the state of New Jersey, an open space value within a densely populated section of the state, and an economic value for the flood storage it provides.
Troy Meadows is a remnant of ancient Glacial Lake Passaic (along with the Great Swamp, Black Meadows, and Great Piece and Little Piece Meadows). It was the largest freshwater marsh in the State of New Jersey and was classified as the highest quality inland wetland in New Jersey. Unfortunately, during the past half century, its landmass has been shrinking, its landscape has been dissected, and its environmental integrity has been degraded by the construction of Interstate Route 80, Interstate Route 280, and surrounding suburban developments. Its large cattail community is being replaced by an invasive species of reed grass known as phragmites communisas a result of land disturbances, road construction, polluted storm water, silt pollution deposits, and the excessive suburban use of winter road salts.
Nonetheless, Troy Meadows remains an important habitat for a variety of birds, butterflies, mammals, reptiles and amphibians. It is located along the Atlantic flyway and serves as a staging area for migratory waterfowl.
The value of Troy Meadows is considerable as it is in the shadows of the greater New York City area. It is highly utilized by many people for educational and research purposes and for nature appreciation.
Expand to see more
Collapse to see less
Videos of Troy Meadows Projects
Support Our Work at Troy Meadows
You can help us protect New Jersey's diverse plant and animal communities.
Donate